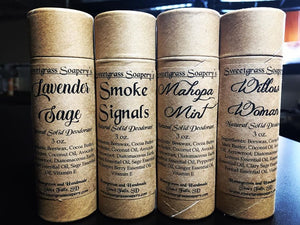 Our breakthrough formula of SD grown Beeswax, Diatomaceous Earth, Arrowroot, and skin loving oils will have you feeling and smelling fresh all day! We created this deodorant to be gentle, smooth, and to work with your body's own chemistry! 
A little goes a long way! Since our transition to this natural deodorant, our family forgets to use it often as it aids in balancing your body's ability to fight odor and sweat. This is not an anti-perspirant! We totally believe in sweating! 
This formula is baking soda, aluminum, and fragrance oil free <3
As always, we only use essential oils, and every eco-conscious tube is hand poured!
3 oz.
Ingredients: Beeswax, Cocoa Butter, Shea Butter, Coconut Oil, Avocado Oil, Arrowroot, Diatomaceous Earth, Vitamin E, Essential Oils
Available Varieties:
Smoke Signals: Our most popular soap scent! Patchouli, Sage and Juniper Berry Essential Oils

Willow Woman: Bold and bright, our long awaited Scent combo! Lemon, Rosemary, Clary Sage and Fennel Essential Oils
Mr. Judo: Clean and refreshing, with odor fighting Eucalyptus and Tea Tree Essential Oils