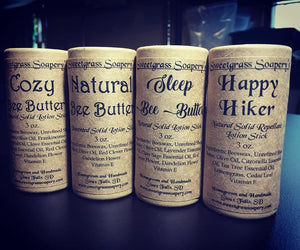 A simply moisturizing Solid Lotion Stick!
Our ever popular Bee Butter formula of Local Farm Fresh Beeswax, Raw Shea Butter and infused Olive Oil make for a rich, long lasting, nourishing solid lotion that melts with your body temp! Simply glide onto affected areas, and massage into skin for healing, and protection. This is ideal for super dry skin or rough patches!
Cozy Bee Butter - Smells like home! Frankincense, Clove, and Orange essential oils provide coziness and spicy, warm comfort!
Natural Bee Butter - Simple and "unscented", with only pure Beeswax, Raw Shea Butter and Pure Olive Oil infused with Red Clover and Dandelion From Sweetgrass Farm!
Sleep Bee Butter - Our most popular blend includes Lavender and Clary Sage essential oils, which make this blend amazing before bedtime, and is wonderful on tired feet!