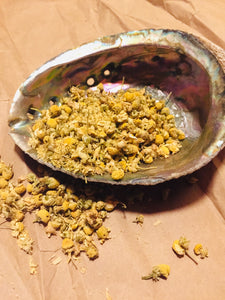 (Matricaria recutita)
Dried Flower & Stem
1 oz.
Many cultures use Chamomile as a medicinal plant for its anti-inflammatory, anti-bacterial, anti-allergenic, sedative and fragrant properties. 
German chamomile is native to Europe, North Africa, and some parts of Asia. It is closely related to the Roman Chamomile, which has many of the same medicinal properties as German chamomile. Chamomile is often used in a cream or ointment to soothe irritated skin.
Chamomile makes a lovely, sweet addition to teas and natural bath and body formulations. One of my absolute favorites!