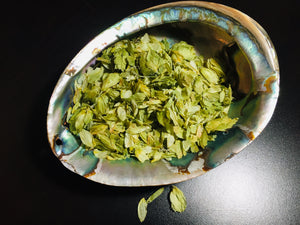 Humulus lupulus

0.2 oz. dried
Hops are native to North America, Europe and Western Asia. The flowers are known for their aromatic and bitter qualities, and has made them a preferred ingredient in brewing for their unique taste profiles. The hops flower has long been used as a gentle nervine when steeped in infusions or tinctured. The flowers can also be added to dream pillows or bath and body formulas.
The Sumerians goddess Ninkasi was the goddess of brewing and beer, and head brewer to the gods. The Romans said that hops grew "wild among the willows, like wolves among sheep", hence the name Lupulus.
Hops are a distant relative of stinging nettles and cannabis. The flower promotes natural relaxation and restful sleep.