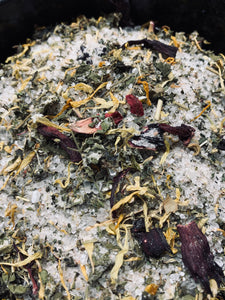 An earthy and supportive blend for during a woman's moon time, this soothing salt soak will calm cramps, nourish, and infuse balance into your body. Warm up and ease your mind with this beautiful blend of magnesium rich salts, essential oils, and organic herbs!

Includes reusable organza bag for steeping herbs!
Compost left over herbs, and dry bag completely between uses.
*Nettle Leaf, *Yarrow Flower, *Calendula Petals, *Raspberry Leaf, *Hibiscus Flower, Epsom Salt, Pink Himalayan Salt
Organic*