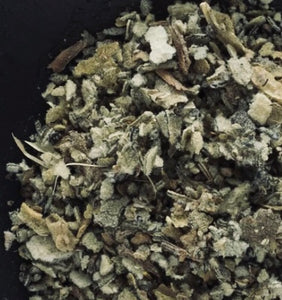 Verbascum thapsus L.
Dried Leaf, Chopped, Organic

.5 oz
Mullein is native to northern Africa, the Canary and Madeira Islands, many regions in Asia and Europe, and now widely seen throughout the world growing as a weed in disturbed soils. The deep root helps to help break up impacted soil and the dead foliage adds nutrients to the soil. Interestingly enough, often it improves soil, making it good enough for other plants to thrive, and then no longer grows there itself.
Mullein herb can be macerated into mullein extract, brewed as mullein leaf tea, or made into syrup. It can also be smoked and is favored for it's supportive effect on lungs and upper respiratory health. It can often be found as an infusion for relief of ear aches in the form of oils, often combined with garlic.
Mullein leaf, flower and root, has a long range folk uses from 'nature's toilet paper' to warding off evil spirits. Its magical qualities are numerous, and is also thought to instill courage and health, provide protection, and to attract love. It was believed that wearing mullein would ensure fertility and also keep potentially dangerous animals at bay while trekking along in the wilderness. Mullein is an herb of European origin, but has been incorporated into the Native American healing tradition. The root was made into a necklace for teething infants, applied as a poultice for cuts and swollen glands, and the leaves have been rubbed on the body during ritual sweat bathes.