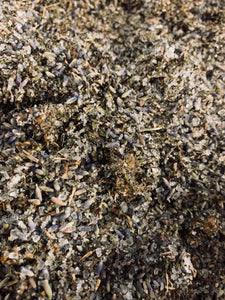 An aches and pain relief blend, for strained muscles, sore joints, and treatment of deep bruising! This soothing salt soak compliments our ever popular and powerful No Flare anti-inflammatory balm. Warm up and ease your strains with this beautiful blend of magnesium rich salts, essential oils, and organic herbs!
Includes reusable organza bag for steeping herbs!
Compost left over herbs, and dry bag completely between uses.
Epsom Salt, Olive Oil, Arnica Flower, Rosemary Leaf, Peppermint Leaf, Lavender Flower