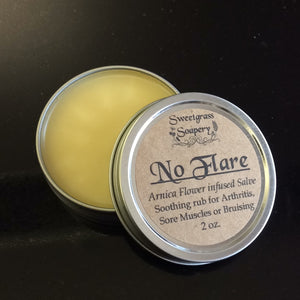 Arnica is a genus of perennial herbs belonging to the sunflower family (Asteraceae). Several species of Arnica, mostly notably A. montana, contain an anti-inflammatory compound believed to relieve pain, aches, and bruising when applied topically.
An infusion of Arnica, Peppermint, Lavender and Rosemary provide soothing relief to aches and pains related to arthralgia and muscle strain. 
Ingredients: 
Arnica Flower infused Pure Olive Oil, Organic Coconut Oil, SD Grown Beeswax, Peppermint, Lavender, Rosemary Essential Oils - 2 oz.