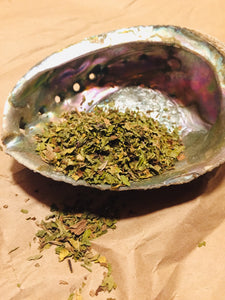 Mentha x peperita
Dried, Chopped Leaf
1 oz. 
Peppermint offers its cool, refreshing flavor and unmatched aroma to a wide variety of foods, beverages and bath and body formulations. It is a common ingredient for candies, toothpastes, ice creams, pies and other desserts. The peppermint leaf itself is muddled and added to cocktails and is a popular ingredient in herbal teas when dried.
Nothing beats a peppermint foot bath after a long day! 
It is added to spice rubs which are used to flavor lamb and other meats, commonly in the Middle East. It is also blends well with yogurts, beans, and cheese.