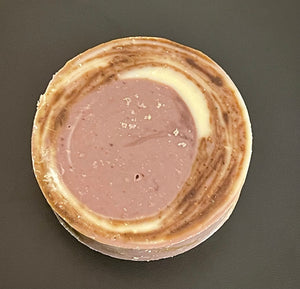 One of our most popular blends is now available in our beloved shampoo bar formula! A grounding blend of herbaceous Rosemary, Sage, Lemon and Fennel, this blend is loved by men and women alike! 
Cleansing and Balancing for most hair types, ACV adds luster and shine, along with scalp soothing hydration! Essential Oils, Organic Cocoa Butter and Organic Sunflower Oil, boost the benefits of this convenient solid shampoo. 
To use simply massage shampoo bar into wet hair, a little goes a long way! This creates a bubbly, frothy, and creamy lather, that easily rinses away! Follow up with our natural Conditioner Bars for a smooth, silky finish!
It's that easy!
Each bar will last 40+ washes with proper care!
Store bar in shower on a dry high shelf, or out of the waters way. For optimum storage, remove bar from shower after each use. 
Ingredients: Pure Olive Oil, Coconut Oil, Organic Apple Cider Vinegar, Sodium Hydroxide (lye), Organic Castor Oil, Sodium Lactate, Organic Cocoa Butter, Organic Sunflower Oil, Kaolin Clay, Sage Leaf, Lemon, Rosemary, Clary Sage and Fennel Essential Oils