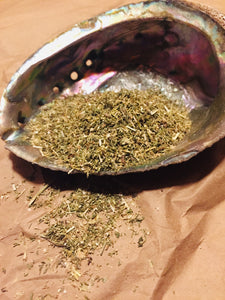 Achillea millefolium
Dried Leaf & Flower, Organic
.5 oz.
An herbaceous perennial with featherlike leaves and clusters of tiny, fragrant white to pink flowers, Yarrow can be found cultivated in gardens and along fields, mountains, and roadsides as a common weed. A long history of use for its healthful properties in herbalism, Yarrow leaf and flower are revered for use in skin care creations, herbal tea blends and tincturing.
The aerial parts are often used to treat cramps, gastrointestinal complaints, and to aid in healing, especially for lower pelvic conditions.
Native to North America, Europe and Asia. Yarrow grows and blooms in the summer months, with soft featherlike leaves. Fragrant clusters of tiny white flowers grow atop tall thin stalks.