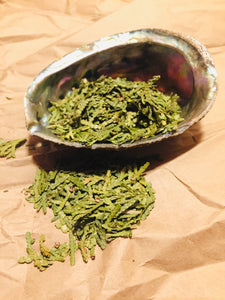 Thuja plicata
Dried, Loose Leaf
0.5 oz.
Wild harvested
Common in the Pacific Northwest,Thuja plicata thrives in old-growth forests and along streambanks. It has played an important role amongst Native American tribes providing a means of shelter, boat making, basket making, crafts, and medicine. Cedar leaf is aromatic and can be used topically, as incense, infused, or extracted.
Cedar is native to North America and was once used by the Native Americans to create canoes, earning it the title "Canoewood". It was later affectionately nicknamed 'Arbor Vitae', a French term for Tree of Life, after supposedly curing one of Jacques Cartier's men of scurvy during a 16th century expedition.
The leaves have an aromatic flavor and scent and may be used with caution as a tea.